Hands up if your timeline was flooded with news from Coachella this weekend? You're not alone.
Social media was buzzing with Beyonce's headline set, The Weeknd "crying" and a pregnant Cardi B twerking.
Around 100,000 fans are expected in California for the two-week festival which runs until 22 April.
If the cost of flights and a hotel, plus the £300 tickets meant you couldn't be there, here's a rundown of the best bits.
Once again the the 36-year-old singer showed why she's considered one of the world's greatest entertainers.
B opened her two-hour set surrounded by dancers in military-themed costumes before husband Jay-Z joined her for a rendition of her 2003 hit, Crazy In Love.
If the venue had a roof, it would've come off, when Beyonce was joined onstage by Kelly Rowland and Michelle Williams.
MY GIRLS!!!! Tonight couldn't have been more magical!!! ❤️ #Coachella2018 #BeyChella 📸: @ravieb

A post shared by Michelle Williams (@michellewilliams) on
Report
End of Instagram post by michellewilliams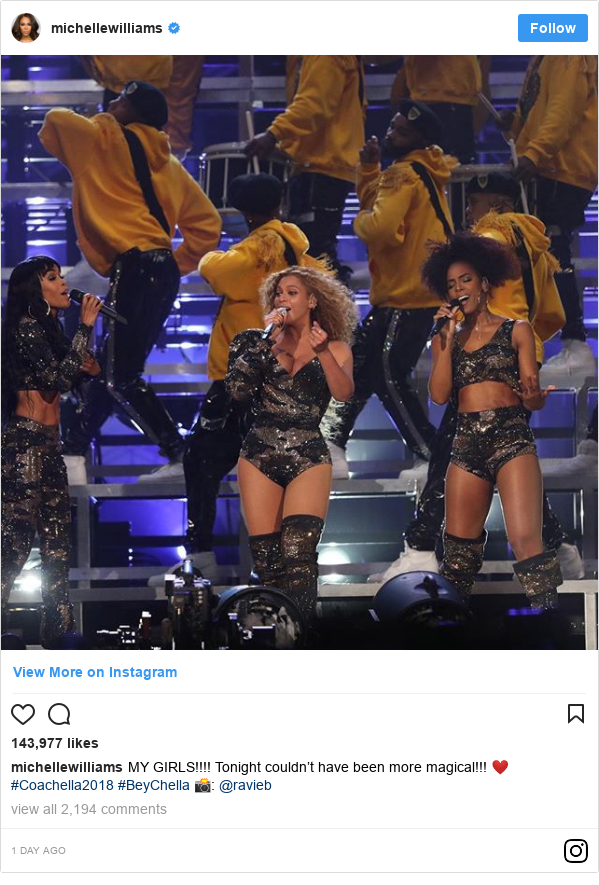 It's the first time the trio, aka Destiny's Child, have appeared together since the Stellar Gospel Music Awards in 2015.
Beyonce was due to headline Coachella last year but pulled out due to the fact she was pregnant with twins Rumi and Sir.
Judging by the reaction on social media, it was worth wait.
At one point Beyonce was responsible for 15 of Twitter's 20 trending positions.
#Coachella When Michelle and Kelly came on stage #Beychella #beyonce #DestinysChild pic.twitter.com/mMWvVtLyDg

— Baddiegigi (@Baddiegigi1) April 15, 2018
End of Twitter post by @Baddiegigi1
We are used to numerous costume changes but some eagle-eyed fans even spotted that Beyonce executed a nail change during her set.
And THEN…did she change her nail polish during her outfit change??? No one speak to me for the rest of 2018… I need to go figure out what I'm doing with my life…k-bye…👋🏾 #Beyonce #Beychella #Coachella 🔥 pic.twitter.com/DAzfmDvXBc

— Ashlee Marie Preston (@AshleeMPreston) April 15, 2018
End of Twitter post by @AshleeMPreston
Justin Bieber and 'Walmart Yodel Boy'
What do you mean who?
Walmart Yodel Boy is actually 11-year-old Mason Ramsey. He became a viral sensation after a video of him singing in the aisle of a supermarket was uploaded.
More than 20 million views later and appearances on shows like the Ellen Degeneres Show – Mason was invited by Coachella to perform.
Me: which aisle can i find light bulbs?
Walmart employee: pic.twitter.com/bwiWQAsz6O

— David (@dumbassvegan) March 27, 2018
End of Twitter post by @dumbassvegan
Mason admitted he had been bullied and trolled because of the video but no doubt he got the last laugh when it turns out Justin Bieber is a fan.
The pair met backstage at the festival and had a chat before posing for pictures.
Warning: Third party content may contain adverts
End of Youtube post by MITCHELL WIGGS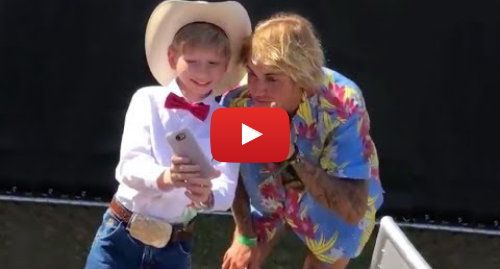 A pregnant Cardi B twerking
Being pregnant may have stopped Beyonce performing last year but it didn't stop Cardi B this year.
The rapper, who confirmed her pregnancy earlier this month, ran through hits from her debut album Invasion of Privacy.
She was also joined by Chance the Rapper and G-Eazy during her set.
Although the 28-year-old twerking was the moment most fans were gushing about online.
Wizkid's no show
Obviously not a Coachella highlight because the Nigerian singer failed to make it to the festival.
Band had some visa issues…I'm upset bt See y'all next week"🚀 #GhettoboyStory #Coachella 🤬🙏🏾🚀❤️

— Wizkid (@wizkidayo) April 14, 2018
End of Twitter post by @wizkidayo
Although the musician hasn't confirmed the reasons why, it seems his team didn't have the right travel documents to make the trip.
Coachella has announced that he will be performing during the second week of the event instead.
Where's Eminem?
It was left to Eminem to close out the first weekend of the festival when he headlined on Sunday night.
But fans were left frustrated when the set wasn't available on the official Coachella YouTube page.
Coachella is not steaming Eminem ? Only set I was looking forward to all weekend .. weak …

— ETC!ETC! (@IAMETC) April 16, 2018
End of Twitter post by @IAMETC
Everyone (including me) trying to find the @Eminem @coachella live stream… #Eminem #Coachella pic.twitter.com/pjCR0Z8WJd

— Priscilla Wagner (@_CillaW) April 16, 2018
End of Twitter post by @_CillaW
This fan seemed to offer a suitable explanation as to why the show wasn't live streamed.
Eminem is going on tour after Coachella with these sets, he didn't allow them to stream it for that purpose. Can't blame @coachella or @Eminem. #GOAT

— michael pendrick (@miggs85) April 16, 2018
End of Twitter post by @miggs85
Looks like anyone hoping to catch it online missed a decent show. Em was joined on stage by 50 Cent, Dr Dre and Bebe Rexha.
#Coachella was worth all the mouthfuls of dust, sticky heat, and body odor because @Eminem 💜#Coachella #Eminem #DrDre #50Cent pic.twitter.com/LbwUdwYjDV

— SielBurt Ⓥ (@SielBurt) April 16, 2018
End of Twitter post by @SielBurt
Follow Newsbeat on Instagram, Facebook and Twitter.
Listen to Newsbeat live at 12:45 and 17:45 every weekday on BBC Radio 1 and 1Xtra – if you miss us you can listen back here.
Original Source. All Rights Reserved. View Disclaimer and Copyright Notice.
S-28S