US President Donald Trump is seething about former FBI Director James Comey's new memoir, which is chock-full of scathing assessments of him.
The book – due to be published this week – likens Mr Trump to a mob boss and details his fixation on claims he consorted with prostitutes in Moscow.
In Sunday's TV interview, Mr Comey said Mr Trump was "morally unfit" to lead and could have obstructed justice.
But he does not think the president should be impeached, as it would let Americans "off the hook".
The president and his supporters have lashed out online against Mr Comey.
The White House and its allies have launched an all-out campaign to discredit the publication, even creating a website, lyincomey.com.
On Twitter, Mr Trump branded him "Slippery James Comey", and says he "hardly even knew this guy".
Slippery James Comey, a man who always ends up badly and out of whack (he is not smart!), will go down as the WORST FBI Director in history, by far!

— Donald J. Trump (@realDonaldTrump) April 15, 2018
End of Twitter post by @realDonaldTrump
I never asked Comey for Personal Loyalty. I hardly even knew this guy. Just another of his many lies. His "memos" are self serving and FAKE!

— Donald J. Trump (@realDonaldTrump) April 15, 2018
End of Twitter post 2 by @realDonaldTrump
A Higher Loyalty: Truth, Lies & Leadership is due to be published on Tuesday, but advance copies have been obtained by US media outlets.
But there are some parts the president is unlikely to brand fake news.
Mr Comey says he believes Mr Trump's hair was his own and his much-mocked hands did not seem unusually small.
Here is a selection of what Mr Comey has said about Mr Trump, in the book and in his first major TV interview since he was fired.
ABC News has released a full 42,000-word transcript of the interview.
Host presenter George Stephanopoulos on ABC's 20/20 programme interviewed Mr Comey on Sunday night.
When asked if he considered Mr Trump fit to lead, the former FBI director said he did not believe claims about Mr Trump's mental health, but did see him as "morally unfit" to be president.
"A person who sees moral equivalence in Charlottesville, who talks about and treats women like they're pieces of meat, who lies constantly about matters big and small and insists the American people believe it, that person's not fit to be president of the United States," he told Mr Stephanopoulos.
Mr Comey was referring to President Trump's argument that "both sides" were at fault for white supremacist violence in Charlottesville, Virginia, last year.
2. Obstruction of justice
Another portion of the interview handled the sacking of National Security Adviser Michael Flynn in February 2017 for lying about contacts with the Russian ambassador in Washington.
The former FBI head said Mr Trump had tried to pressure him into dropping any investigation into Mr Flynn.
"I took it as a direction," he told Mr Stephanopoulos. "He's – his words were, though, 'I hope you can let it go'."
Mr Comey says he let the comment pass, but concedes he should perhaps have suggested to the president that it would amount to obstruction of justice.
"It's certainly some evidence of obstruction of justice. It would depend and – and I'm just a witness in this case, not the investigator or prosecutor, it would depend upon other things that reflected on his intent."
Mr Trump strongly denies Mr Comey's account.
3. Impeachment?
But despite all this, Mr Comey does not think the president should be impeached.
"I think impeaching and removing Donald Trump from office would let the American people off the hook," he told Mr Stephanopoulos.
Instead, he believes the American people are "duty-bound" to remove Mr Trump "directly" at the ballot box.
In the memoir itself, Mr Comey reportedly compares Mr Trump to a crime lord.
He writes that interactions with the president gave him "flashbacks to my earlier career as a prosecutor against the mob".
The former FBI chief was a prosecutor earlier in his career, and helped break up the Gambino crime family.
"The silent circle of assent," he continues. "The boss in complete control. The loyalty oaths. The us-versus-them worldview.
"The lying about all things, large and small, in service to some code of loyalty that put the organisation above morality and above the truth."
.@GStephanopoulos: "How strange is it for you to sit here and compare the president to a mob boss?"
@Comey: "Very strange. And I don't do it lightly. And I'm not trying to, by that…suggest that Pres. Trump is out breaking legs and shaking down shopkeepers." #Comey pic.twitter.com/RThxlS4VaH

— Good Morning America (@GMA) April 16, 2018
End of Twitter post by @GMA
4. Clinton emails probe
In the TV interview, Mr Comey said his belief that Hillary Clinton would win the 2016 presidential elections was a factor in how he handled the investigation into the Democrat candidate's use of classified emails on a private server while she was the secretary of state.
"I was operating in a world where Hillary Clinton was going to beat Donald Trump," Mr Comey said.
"And so I'm sure that it – that it was a factor.
"I don't remember spelling it out, but it had to have been. That – that she's going to be elected president, and if I hide this from the American people, she'll be illegitimate the moment she's elected, the moment this comes out."
In July 2016, Mr Comey said Hillary Clinton had been "extremely careless" in her handling of the emails, but the FBI would not press charges.
However, in October, days before the vote, he sent a letter to Congress telling them the FBI was reopening an investigation after finding more emails. The letter went public – and Mrs Clinton has said she would have won the election without it.
On 6 November, the FBI said it had completed its review into the new trove of emails and there would, again, be no charges.
5. 'Moscow prostitutes'
The former FBI boss writes that on at least four occasions Mr Trump raised the matter of unverified claims that he watched prostitutes urinate in a hotel suite during a 2013 Moscow trip.
The allegations surfaced in a raw intelligence dossier compiled by a former British spy who had been hired by Mr Trump's political enemies to dig up dirt on him.
Mr Comey says Mr Trump angrily denied the claims and asked him to have the FBI disprove them because they were "terrible" for his wife, Melania Trump.
He writes that he first broached the matter at a Trump Tower meeting in January 2017 shortly before the president's inauguration.
Mr Comey said in the interview: "He interrupted very defensively and started talking about it, you know, 'Do I look like a guy who needs hookers?'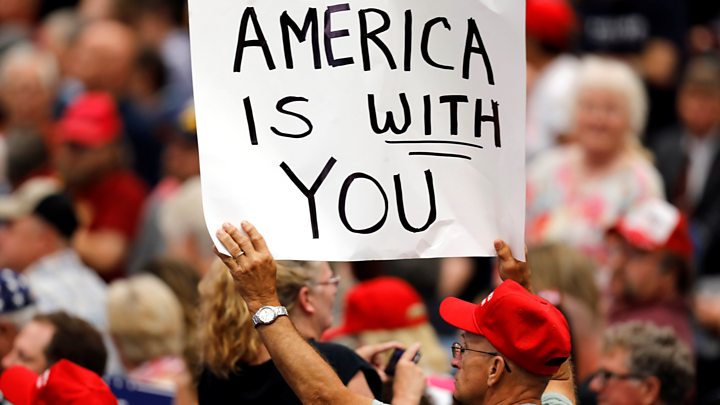 "And I assumed he was asking that rhetorically, I didn't answer that, and I just moved on and explained, 'Sir, I'm not saying that we credit this, I'm not saying we believe it. We just thought it very important that you know.'"
Mr Comey added: "I honestly never thought these words would come out of my mouth, but I don't know whether the current president of the United States was with prostitutes peeing on each other in Moscow in 2013. It's possible, but I don't know."
6. Trump's hair and hands
Mr Comey, who is 6ft 8in (2.03m), says that when he first met the 6ft 3in president-elect, he appeared shorter than he did on TV.
"His face appeared slightly orange," Mr Comey reportedly writes, "with bright white half-moons under his eyes where I assumed he placed small tanning goggles, and impressively coifed, bright blond hair, which upon close inspection looked to be all his.
"As he extended his hand, I made a mental note to check its size. It was smaller than mine, but did not seem unusually so."
Original Source. All Rights Reserved. View Disclaimer and Copyright Notice.
S-28S